Level Sensor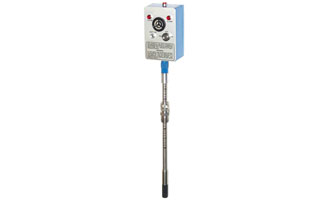 Our level instruments employ a unique variable insertion non-contact solid state capacitance level sensor that assures the utmost in reliability and dependability, and may be used in the most hostile industrial environments. The sensor probe, available in standard lengths of 2, 3, 4, and 5 ft., features a laser engraved ruler scale and a vapor tight sliding gland that is easily adaptable to any cargo vessel through a standard 1/2" NPT fitting. We offer a wide range of probe materials ranging from our standard 316 Stainless Steel and Teflon to exotic alloys such as Hastelloy C-276 for highly corrosive chemicals. Our instruments are suitable for both open and closed dome loading applications.
Level Sensor Style
- Self-contained Ullage Alarm
- High Level Shutdown
- Pressure Alarm
Level Sensor Type
- Portable
- Permanent
Level Sensor Probe Length
- 2 ft
- 3 ft
- 4 ft
- 5 ft
- Custom
Level Sensor Pressure Rating
- Standard - 50 psig
- High - up to 300 psig
Level Sensor Options
- Conductive Fluids
- Hydrochloric Acid
- High Temperature
The Model A-100 Outalarm self contained portable battery operated unit is used primarily for local audible and visual high level alarming. An optional opto-isolated solid state switch is available for activating remote alarms or shutdowns. The unit features a fail safe continuous battery monitor that puts the unit in alarm on low battery voltage. A standard disposable 9 V alkaline battery will operate the Outalarm for up to 750 hours.
Complementing the Outalarm we offer the 110 VAC powered Models A-200 and A-210 Spillguard and Model A-300 and A-300M Batchguard products. These fail safe systems for high level and batch control are supplied complete with probe, controller, and a heavy duty cable and are FM intrinsically safe for Class I Div 1 Groups A, B, C, &D. hazardous areas.
To get information or receive a quote fill out our Inquiry Form or email us at sales@cse-ipg.com.