Ball Valves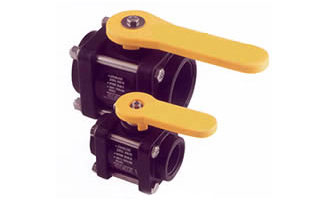 Ball Valves Material of Construction
- Glass Filled Polypropylene
- 316 Stainless Steel
Ball Valves End Connection
- FNPT
- Flange x Camlock Adapter
- Flange x MNPT
Ball Valves Seal
- Viton
- PTFE
- EPDM
Ball Valves Style
- Standard Port
- Full Port
- Stubby Valve
- 3-Way (Side and Bottom Load)
- Nozzle Valves & Nozzle
- IBC Ball Valves
- Electric (Actuated) Ball Valves
- P.P. Dry Disconnect
Ball Valves Size
- 1/2", 3/4", 1", 1-1/4", 1-1/2", 2", 3"
Ball Valves Options
- Electric
We have Liquid Fertilizer Application Equipment consisting of Valves, Manifold Systems, Dry Break Couplings, IBC/Tank Accessories, Camlock Couplings, Pipe Fittings, Line Strainers and Pumps. Ball Valves are shown-see other product pages and ask about your specific needs and we will provide product information and quotations as required.
To get information or receive a quote fill out our Inquiry Form or email us at sales@cse-ipg.com.