Instrumentation Isolation Rings/Iso-Spool®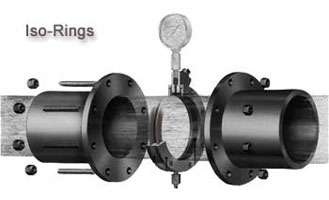 Instrumentation Isolation Rings/Iso-Spool® Housing Material
- Stainless Steel
- Carbon Steel
Instrumentation Isolation Rings/Iso-Spool® Assembly Flange Material
- Stainless Steel
- Carbon Steel
- CPVC
Instrumentation Isolation Rings/Iso-Spool® Inner Flexible Wall Material
- White Neoprene
- Viton®
- Buna-N
- Teflon®
- Natural Rubber
Instrumentation Isolation Rings/Iso-Spool® Captive Sensing Liquid
- 50% Water/50% Prop. Glycol
- Silicone Oil (FDA Approved)
- Fluorosilicone Oil
- Mineral Oil
- Distilled Water
Instrumentation Isolation Rings/Iso-Spool® Style
- Wafer Iso-Ring
- Bolt Through Iso-Ring
- Threaded Iso-Spool
- Flanged Iso-Spool
Instrumentation Isolation Rings/Iso-Spool® Size
- 1" Spool only, 1-1/2" Spool only, 2" Spool or Ring, 3", 4", 5", 6", 8", 10", 12", 14", 16", 18", 20" Ring only
Instrumentation Isolation Rings/Iso-Rings® isolates gauges or switches from solids in the process flow to assure accurate pressure readings. Also, they allow removal of gauges or switches for calibration, repair or replacement without interrupting the process flow.
When a gauge or switch is screwed directly into a pipeline, solids from the process flow can quickly plug the pressure-sensing mechanism. Result: erroneous pressure readings.
Using a diaphragm seal to isolate the gauge or switch from the process flow doesn't solve the problem either. That's because those solids will quickly clog the access port on the diaphragm seal, too. Result: erroneous pressure readings.
With an isolation ring (Iso-Ring®), the gauge is in contact with a captive liquid, not the process flow directly. Clogging or fouling is never a problem.
Iso-Ring® has a flexible inner cylinder, behind which is a clean captive liquid; as process liquid flows through the pipe, it exerts pressure on the flexible cylinder, which transmits this pressure to the captive liquid and on to your gauge or switch.
Iso-Ring® has a built in needle valve, which can be used to isolate your gauge from pressure, allowing you to remove the gauge, while your line is under pressure. The needle valve can also be used as a snubber.
Iso-Ring® fits between your piping flanges, just as many butterfly valves do and are available for piping diameters from 2" to 20".
To get information or receive a quote fill out our Inquiry Form or email us at sales@cse-ipg.com.