Swivel Joints (Swing Joints)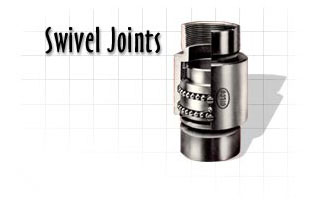 Swivel Joints (Swing Joints) Material of Construction
- Stainless Steel
- Carbon Steel
- Aluminum
- Bronze
- Monel
- Hastelloy
- Other
Swivel Joints (Swing Joints) Bearings
- Ball Bearings
- Roller Bearings
Swivel Joints (Swing Joints) Body Construction
- Standard
- Split Flange
Swivel Joints (Swing Joints) End Connection
- Threads
- Weld ends
- Flanges
Swivel Joints (Swing Joints) Style
- 10 - 3 plane, 2 elbows
- 20 - 1 plane, 0 elbows
- 30 - 1 plane, 1 elbow
- 40 - 1 plane, 2 elbows
- 50 - 2 plane, 2 elbows
- 60 - 2 plane, 1 elbow
- 70 - 2 plane, 3 elbows
- 80 - 3 plane, 3 elbows
Swivel Joints (Swing Joints) Seal
- O-ring
- V-ring
Swivel Joints (Swing Joints) Seal Material
- Buna
- Viton
- Teflon
- E-P
- Neoprene
- Other
Swivel Joints (Swing Joints) Size
- 3/4", 1", 1-1/4", 1-1/2", 2", 3", 4", 6", 8", 10", 12", 14", 16"
Swivel Joints (Swing Joints) Special Variations
- Full Steam Jacketed
- Low Torque
A swivel joint is a fitting that has a plane of rotation incorporated into it through the use of a body and tail that can move relative to each other 360 degrees, if not limited. The style of swivel joint is determined by the number of planes of rotation and the number of elbows. For each particular swivel joint, the type of inlets (flanged, threaded, weld end), material of construction (carbon, stainless steel, aluminum, etc.), and seal material, as well as the size, must be specified.
The bearing in swivel joints is in most cases ball bearings; however, in high load applications, roller bearings are also used. The seals used are usually o-rings or v-rings, with v-rings being used for heavy duty applications. Swivel joints are offered with a split-flange design for ease of seal replacement,and also jacketed for those applications where temperature needs to be controlled.
A swivel joint is used to put flexibility into a liquid transfer system; usually a hose or pipe system. With the hose system, it relieves axial rotation forces and bending forces, when the bend radius required is shorter than what the hose is designed to allow. Swivel joints are also used, in conjunction with a length of pipe, as a hose support, which is a crude form of loading arm. Swivel joints used with pipe, are referred to as loading arms. Though most arms are made exclusively with pipe, some arms also use hose as part of the system.
To get information or receive a quote fill out our Inquiry Form or email us at sales@cse-ipg.com.