Sight Flow Indicators/Sight Windows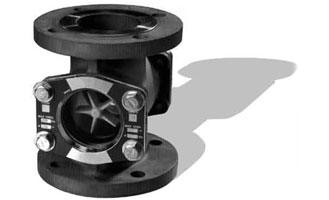 Sight Flow Indicators/Sight Windows Body Material of Construction
- 316 Stainless Steel
- Carbon Steel
- Bronze
- Ductile Iron
Sight Flow Indicators/Sight Windows Window Construction
- Tempered Soda Lime
- Tempered Borosilicate*
Sight Flow Indicators/Sight Windows Indicator Material
- Delrin
- Ryton*
- Teflon**
Sight Flow Indicators/Sight Windows Seal Material
- Neoprene
- Viton*
- Buna-N**
- Teflon**
- EPT**
Sight Flow Indicators/Sight Windows Connections
- FNPT
- Socket Weld
- BSP
- Flanges
Sight Flow Indicators/Sight Windows Type/Series
- Std. Pressure/Std. Temp.
- Hi-Pressure/Hi-Temp.
- Low Pressure/Full View
Sight Flow Indicators/Sight Windows Style
- Propeller
- Bi-Directional Flapper
- Bi-Directional Plain
- Drip Tube
Sight Flow Indicators/Sight Windows Size
- 1/4", 1/2", 3/4", 1", 1-1/4", 1-1/2", 2", 3", 4", 6", 8", 10", 12"
In-line sight flow indicators, also known as a sight glass and Visi-Flo, offer a simple, inexpensive means to qualitatively gage flow rate, direction, color and clarity. Typical applications are on filter, lubrication and cooling lines, to positively verify fluid flow or as backups for meters, switches, process indicators and other control devices.
Modular units allow the installation of various indicators within a standard body, permitting easy access for servicing or interchanging indicators without removing the body from the process line.
With hazardous materials, an optional safety shield should be placed above the glass to prevent accidental breakage.
Routine maintenance of sight flow indicators is not required. Many indicators have a working life of 20 or more years with little or no attention.
A number of different indicators have been developed to serve specific needs:
A propeller indicator is the best way to show opaque liquids and is also ideal for observation at a distance. But if flow rate is too low, the propeller will not turn.
A bi-directional flapper not only indicates flow, but points in the flow direction.
A plain bi-directional sight flow indicator without a flapper is used where observing color and clarity are more important than verifying flow.
A drip tube is used in vertical lines. The drip tube ensures constant visibility by keeping the fluid from dripping onto the glass.
---
Sight Flow Indicators- Flow Types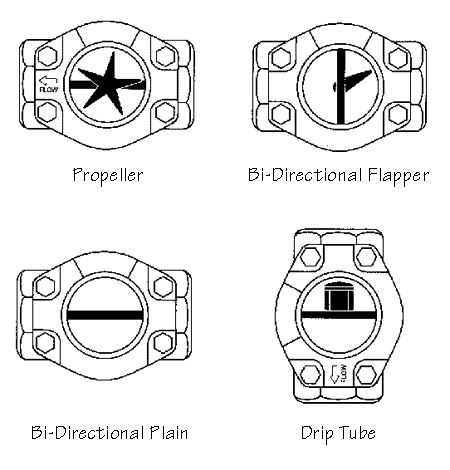 To get information or receive a quote fill out our Inquiry Form or email us at sales@cse-ipg.com.