IBC/Tank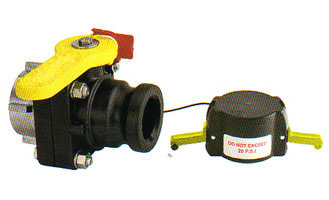 IBC/Tank Valves for:
- Schutz & Clawson Passport
- Grief-Sonoco & IBC Tank
- Mauser-Hoover IBC Tank
- Clawson Rock Tank
- Hoover TUFFTANKII
- Hoover APT
- Grief Unicube
IBC/Tank Options
- Dust Caps
- Lids
- Siphon Tubes
- Fittings
- Anti Vortex Tank Flanges
- Bottom Drain Tank Flanges
- Other Tank Flanges
- Vent Caps
We have Liquid Fertilizer Application Equipment consisting of Valves, Manifold Systems, Dry Break Couplings, IBC/Tank Accessories, Camlock Couplings, Pipe Fittings, Line Strainers and Pumps. IBC/Tank Accessories are shown-see other product pages and ask about your specific needs and we will provide product information and quotations as required.
To get information or receive a quote fill out our Inquiry Form or email us at sales@cse-ipg.com.